Individual touch special solutions
As a manufacturer of customised touchscreens, we develop and produce custom touchscreen systems according to customer specifications. For the sectors of industry and medical technology, we offer proven solution concepts that need only be adapted in detail to your individual needs. We have already successfully passed many industry-specific tests and standards. This reduces your development costs and gives you an important time advantage in increasingly agile markets. Trust in the specialist.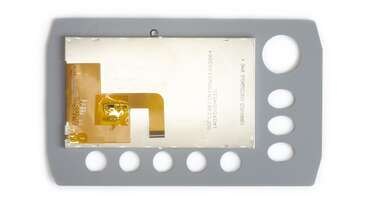 Optical bonding
Optical bonding is one of our outstanding achievements. We master LOCA wet bonding and OCA bonding exceptionally well and at very competitive prices. We deliver bonded complete systems with optical image sharpness. Optically bonded touch systems at particularly attractive conditions. Convince yourself with a free quote.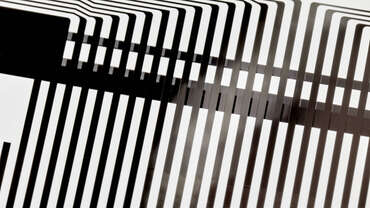 Design
We develop individual touch screens for you based on different technologies, materials and design constructions. If required, the touch sensor can be optimally adapted for extremely cost-efficient or high-quality applications. As a specialist and touch screen manufacturer, we provide competent and reliable advice.
Privacy filter
Privacy protection and the associated data protection is an increasingly important requirement for touch systems. The wider use of touch screens also increases the need for privacy-protected touch screens. Touch screens with privacy filters are ideal for applications in banks, government agencies and pharmacies.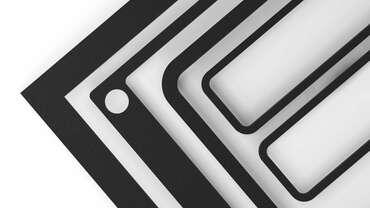 Seal
We meter and punch practical sealing systems for fast and reliable integration into your system. Consequently we achieve an optimal cost benefit ratio with excellent sealing up to IP69K. Robot-based processes and proven materials ensure stable processes and consistent quality.
Anti Reflective Coating
Expect from us optimal finishing options for optical anti-reflective coatings. We are a complete solution provider for mirrored touch systems. Sputtered AR anti-reflective coatings as well as AG coatings in the etching process or as a baked-on spray coating are among our standard solutions. Exactly matched to your requirements for gloss level and scratch resistance.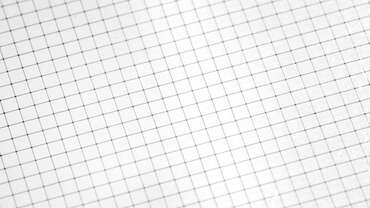 RF shielding
EMC shielding does not always have to be expensive. We are happy to develop efficient solutions for you according to the specification of the corresponding standard. We draw on a large portfolio of implemented projects and already offer many standard solutions for you without further development effort. Special shielding materials are in stock from our warehouse.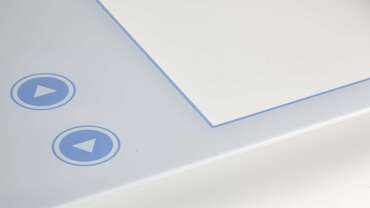 Imprinting
Modern integration of touch screens today is always based on an adhesive bond. However, the adhesive adheres only as well as the ink on the covering glass plate. For this reason, it is very important to optimally match the printing process and the ink to the application. We offer you all the important possibilities of digital printing of prototypes over 2K organic printing processes and ceramic ink systems. We have already extensively qualified many inks and processes and can therefore save you time and money.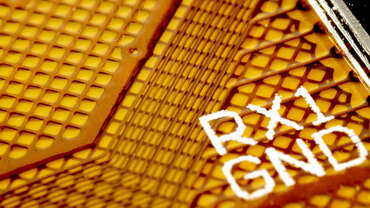 Cable outlet
Highly integrated modern HMI systems require an optimal cable outlet to save space and costs. As a touch screen manufacturer, we have full control over the materials used and the structure of our products. We are happy to develop the optimal cable outlet according to your mechanical specifications. You only define the position of the cable outlet, we will implement the optimal solution for you.
Micro glass thickness
Thin glass thicknesses are necessary to optimally match an operator panel to the requirements. Weight reduction with high impact resistance is a common customer requirement. As a glass specialist we like to fulfil this wish with very thin glasses that behave mechanically like PC or PMMA. In contrast to plastics, our glasses are far superior in terms of chemical resistance and high scratch resistance.
Polyester options
As a touch screen manufacturer, we offer precisely matched PET polyester to exactly adapt the touch screen to special optical conditions. We have the best solution for your optical requirements. Proven concepts and technologies for indoor and outdoor applications.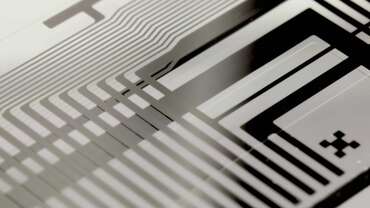 Special size
Individual touch screens tailored to your display. The design of new touch screen sizes is our daily business that we fulfil quickly, reliably and efficiently. We can quickly prototype using touch controller programming when we use a larger touch sensor and reduce the active area. So you get a very economical solution even for small quantities or prototypes.
Sunlight readability
Sunshine readability is a particularly big challenge. In order to offer effective solutions, each project needs individual advice and a detailed understanding of the requirements. We give you competent advice on the type of anti-reflection coating, the appropriate optical bonding process and the display selection. As a system supplier we manufacture an all-inclusive product at attractive costs.
Sun protection
Sunscreen is heat protection. Infrared filters protect your display from overheating and premature failure in demanding applications. We implement IR protection filters as laminated PET film or as high-quality temperature-stable IR protection glass for optimum longevity and minimal heat input.
UV protective filter
Aggressive UV radiation is a major factor in rapid aging of display systems. To ensure long-lasting and good readability, surfaces or protective filters should be selected. We offer proven solutions for challenging outdoor applications.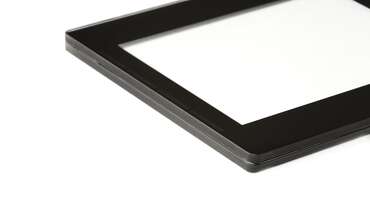 Laminated glass
Optical bonding of one or more glass layers significantly increases the impact resistance of touch screens. Laminated glass with impact resistance of more than IK11 is a matter of course for us. Glass laminates are optimally suited to bind fragments in case of glass breakage and to reduce the risk potential.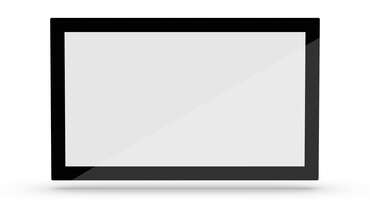 Our stock range of standard PCAP touch screens from 7" to 55". For particularly high demands in terms of impact resistance, we offer you our very robust IK10 touch screen. High-quality industrial PCAP touch from the specialists at attractive prices.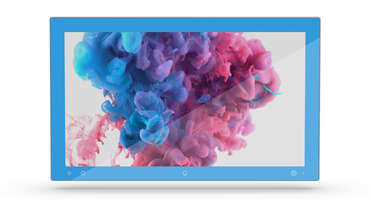 Custom industrial monitor
Discover the almost limitless possibilities and create your own individual industrial monitor that matches your personality and contributes to the expressive appearance of your brand.

Choose:
Bright colours
High quality materials
Attractive glasses
Innovative electronics
There are no limits to your design preferences and your individual realisation.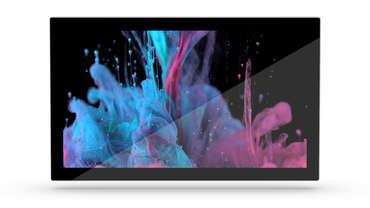 Our goal was to design unique industrial monitors for tomorrow's industrial machinery and medical devices.

With a special design
Outstanding image quality
Unusually intelligent functionality
Excellent price performance ratio

Our monitor platform is a modular system that is easy to customise and still guarantees fast delivery times.
Every industrial monitor is 100% tested and high quality. Design and production by Interelectronix.